Vem conferir as novidades literárias lá de fora do mês de dezembro!
LANÇAMENTOS DE DEZEMBRO
Winter Loon
de Susan Bernhard
(1 de dezembro)
A haunting debut novel about family and sacrifice, Winter Loon reminds us of how great a burden the past can be, the toll it exacts, and the freedom that comes from letting it go.

Abandoned by his father after his mother drowns in a frozen Minnesota lake, fifteen-year-old Wes Ballot is stranded with coldhearted grandparents and holed up in his mother's old bedroom surrounded by her remnants and memories. As the wait for his father stretches unforgivably into months, a local girl, whose own mother died a brutal death, captures his heart and imagination, reminding Wes that hope always floats to the surface.

When buried truths come to light in the spring thaw, wounds are exposed and violence erupts, forcing Wes to embark on a search for his missing father, the truth about his mother, and a future he must claim for himself—a quest that begins back at that frozen lake.

A powerful, page-turning coming-of-age story, Winter Loon captures the resilience of a boy determined to become a worthy man by confronting family demons, clawing his way out of the darkness, and forging a life from the shambles of a broken past.
Raíssa: Não irei mentir ao dizer que não foi a capa que me fez querer saber mais sobre Winter Loon, pois foi exatamente isso. Porém ao ler a sinopse só soube o quanto incrível poderia ser sua leitura. Wes perdeu a mãe aos 15 anos após ela se afogar em um lago congelado e seu pai após isso desapareceu. Para Wes precisar morar com os avós no antigo quarto de sua mãe não o ajuda a seguir em frente, ainda mais quando ele conhece uma vizinha que também perdeu a mãe, porém de um jeito brutal. O problema é que algumas verdades começam a surgir a tona e Wes acaba indo em busca de achar seu pai desaparecido para saber de vez por todas a verdade. Eu acho incrível histórias de busca de auto conhecimento e amadurecimento e fiquei bastante ansiosa para saber se Wes terá por fim sua paz de espírito.
Queen of Air and Darkness (The Dark Artifices #3)
de Cassandra Clare
(4 de dezembro)
Dark secrets and forbidden love threaten the very survival of the Shadowhunters in Cassandra Clare's Queen of Air and Darkness, the final novel in the #1 New York Times and USA TODAY bestselling The Dark Artifices trilogy.

What if damnation is the price of true love?

Innocent blood has been spilled on the steps of the Council Hall, the sacred stronghold of the Shadowhunters. In the wake of the tragic death of Livia Blackthorn, the Clave teeters on the brink of civil war. One fragment of the Blackthorn family flees to Los Angeles, seeking to discover the source of the blight that is destroying the race of warlocks.

Meanwhile, Julian and Emma take desperate measures to put their forbidden love aside and undertake a perilous mission to Faerie to retrieve the Black Volume of the Dead. What they find in the Courts is a secret that may tear the Shadow World asunder and open a dark path into a future they could never have imagined. Caught in a race against time, Emma and Julian must save the world of Shadowhunters before the deadly power of the parabatai curse destroys them and everyone they love.
Mari: Talvez o lançamento mais aguardado do ano para todos que acompanham o nosso site: a conclusão da trilogia Os Artificios das Trevas! Muitas páginas e muitas expectativas nos aguarda nessa conclusão! Ainda sem previsão certa de lançamento no Brasil, a Galera Record prometeu trazer o livro o mais rápido possível.
Fire and Heist
de Sarah Beth Durst
(4 de dezembro)
In Sky Hawkins's family, leading your first heist is a major milestone–even more so than learning to talk, walk, or do long division. It's a chance to gain power and acceptance within your family, and within society. But stealing your first treasure can be complicated, especially when you're a wyvern–a human capable of turning into a dragon.

Embarking on a life of crime is never easy, and Sky discovers secrets about her mother, who recently went missing, the real reason her boyfriend broke up with her, and a valuable jewel that could restore her family's wealth and rank in their community.

With a handpicked crew by her side, Sky knows she has everything she needs to complete her first heist, and get her boyfriend and mother back in the process. But then she uncovers a dark truth about were-dragon society–a truth more valuable and dangerous than gold or jewels could ever be.
Raíssa: VAI TER PESSOAS QUE PODEM VIRAR DRAGÕES!!!!! Isso não é motivo o bastante para qualquer um querer ler Fire and Heist? Na familia de Sky Hawkins as coisas são bem diferentes, ensinar os filhos a como fazer seu primeiro roubo vem antes de ensinar a como falar ou andar e isso envolve ser aceita na familia. Mas não é tão fácil roubar seu primeiro tesouro quando você é metade humana metade dragão. Durante essa jornada, ela descobre segredos da mãe que recentemente desapareceu, a verdadeira razão que seu namorado terminou com ela e uma jóia que poderia elevar o nome de sua família a outro nível. Bem ansiosa com esse.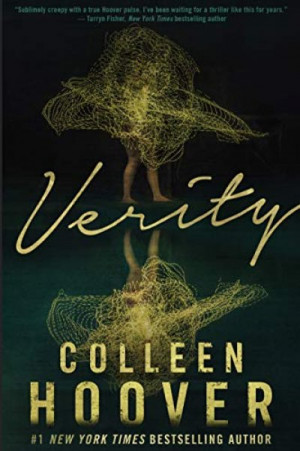 Verity
de Collen Hoover
(18 de dezembro)
Lowen Ashleigh is a struggling writer on the brink of financial ruin when she accepts the job offer of a lifetime. Jeremy Crawford, husband of bestselling author Verity Crawford, has hired Lowen to complete the remaining books in a successful series his injured wife is unable to finish.

Lowen arrives at the Crawford home, ready to sort through years of Verity's notes and outlines, hoping to find enough material to get her started. What Lowen doesn't expect to uncover in the chaotic office is an unfinished autobiography Verity never intended for anyone to read. Page after page of bone-chilling admissions, including Verity's recollection of what really happened the day her daughter died.

Lowen decides to keep the manuscript hidden from Jeremy, knowing its contents would devastate the already grieving father. But as Lowen's feelings for Jeremy begin to intensify, she recognizes all the ways she could benefit if he were to read his wife's words. After all, no matter how devoted Jeremy is to his injured wife, a truth this horrifying would make it impossible for him to continue to love her.

A standalone romantic thriller from #1 New York Times bestselling author Colleen Hoover, releasing December 18th.
Mari: Novo lançamento da rainha do Drama&Romance, Colleen Hoover volta com um stand-alone denominado thriller romântico, o que me gera bastante curiosidade (apesar de seus últimos lançamentos terem me desanimado bastente… eu era uma grande fã de seus livros).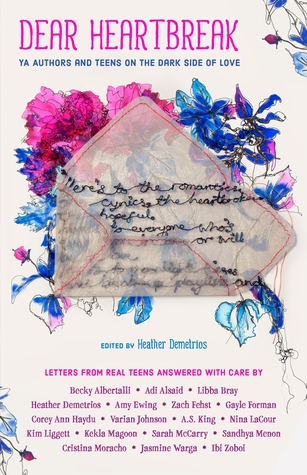 Dear Heartbreak: YA Authors and Teens on the Dark Side of Love
de Adi Alsaid, Becky Albertalli, Libba Bray, Amy Ewing, Gayle Forman e vários outros
(18 de dezembro)
This is a book about the dark side of love: the way it kicks your ass, tears out your heart, and then forces you to eat it, bite by bloody bite. If you've felt this way, you're not alone…

In this powerful collection, YA authors answer real letters from teens all over the world about the dark side of love: dating violence, break-ups, cheating, betrayals, and loneliness. This book contains a no-holds-barred, raw outpouring of the wisdom these authors have culled from mining their own hearts for the fiction they write. Their responses are autobiographical, unflinching, and filled with love and hope for the anonymous teen letter writers.
Raíssa: Eu fiquei MUITO curiosa com esse livro por sua temática. Os contos são todos baseados em casos reais em que o amor não deu muito certo e os autores YA responderam cartas reais de adolescentes de todo o mundo que tiveram histórias de amor com: violência, traições, solidão etc. Não tenho muito ideia de como funcionou essas cartas, mas achei a temática bem interessante, além de ter nomes bem conhecidos no mundo YA como Libba Bray e Gayle Forman.
NOTÍCIAS DO ÚLTIMO MÊS
Capa do novo livro da Margaret Rogerson feita por Charlie Bowater
Quem aqui não conhece a rainha das fanarts, Charlie? E o próximo stand alone da Margaret Rogerson, Sorcery of Thorns teve sua capa feita por ela e olhem a capa e sinopse dessa belezura! Para quem souber inglês, na fonte tem o primeiro capítulo do livro.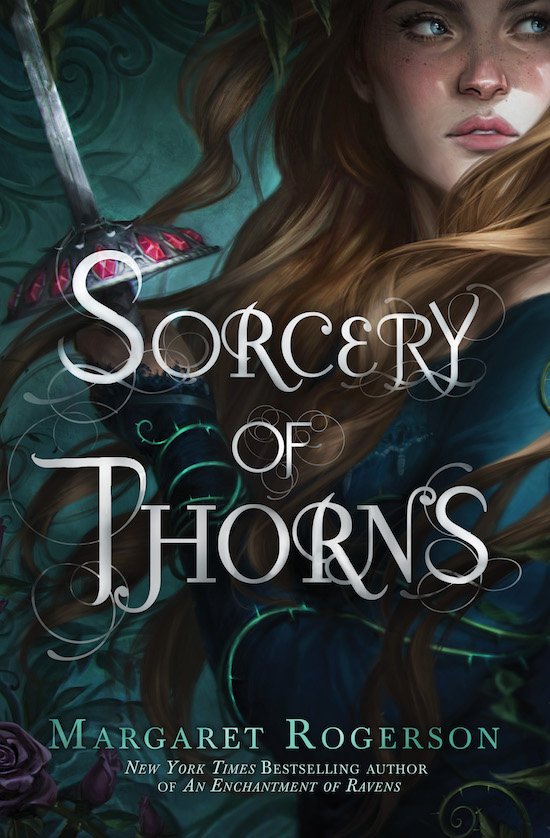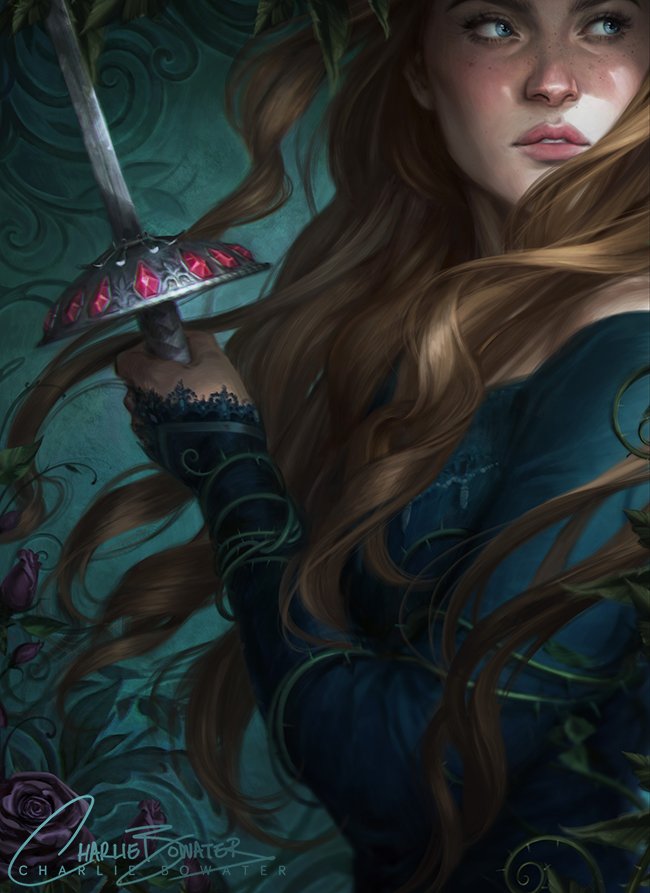 All sorcerers are evil. Elisabeth has known that as long as she has known anything. Raised as a foundling in one of Austermeer's Great Libraries, Elisabeth has grown up among the tools of sorcery—magical grimoires that whisper on shelves and rattle beneath iron chains. If provoked, they transform into grotesque monsters of ink and leather. She hopes to become a warden, charged with protecting the kingdom from their power.

Then an act of sabotage releases the library's most dangerous grimoire. Elisabeth's desperate intervention implicates her in the crime, and she is torn from her home to face justice in the capital. With no one to turn to but her sworn enemy, the sorcerer Nathaniel Thorn, and his mysterious demonic servant, she finds herself entangled in a centuries-old conspiracy. Not only could the Great Libraries go up in flames, but the world along with them.

As her alliance with Nathaniel grows stronger, Elisabeth starts to question everything she's been taught—about sorcerers, about the libraries she loves, even about herself. For Elisabeth has a power she has never guessed, and a future she could never have imagined.
RAPIDINHAS:
A Netflix confirmou que teremos continuação do filme de Para Todos os Garotos que Já Amei! O segundo filme contará a história de "Ps: Ainda amo Você", segundo livro da trilogia escrita por Jenny Han. Ainda não há previsão de começo das gravações.
E aí, qual lançamento você está mais animado?? Conta para nós aqui pelos comentários ou pelo nosso twitter @IdrisBR